Surprise, Freesat and Sky users: The BBC has stepped up its plan to discontinue standard definition (SD) channels on these platforms.
Instead of the original date of March 2024, the change will be made now January 8, 2024.
This means that if you're still using older equipment that only gets SD channels, you'll need to make some changes sooner to continue watching any BBC channels.
Earlier this year, the BBC made all its channels available in high definition (HD), providing better picture quality. Now, they want to turn off the old-style SD channels – earlier than expected.
But don't worry, if you're affected by this change, help is available to upgrade you to HD.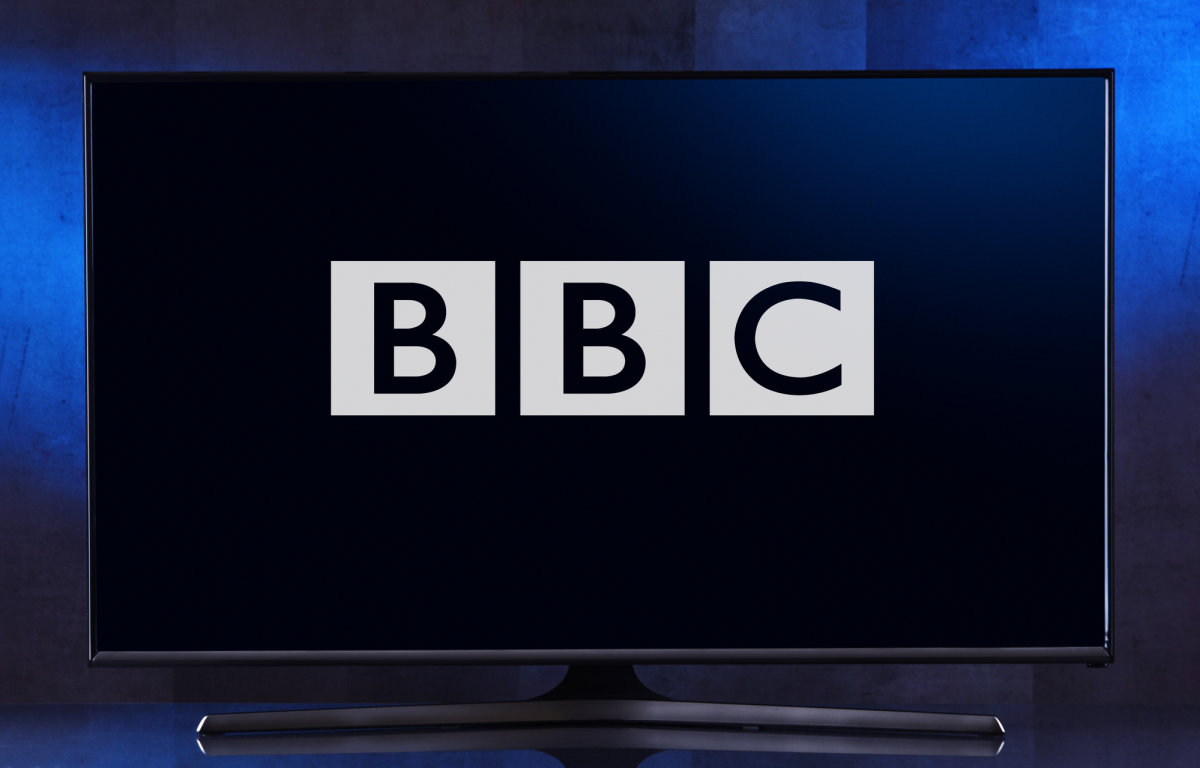 Both Freesat and Sky have plans to help their users make this switch. They offer solutions such as free or discounted (for some) upgrades to newer equipment that can display HD channels – see full details below.
BBC's steady march towards HD
As we reported previouslyThe move from SD to HD is part of the BBC's wider strategy to provide better picture quality and an improved viewing experience for its audiences – on Freeview, satellite and live broadcast.
The initiative saw a major boost with its consolidation Local news on BBC One HD On Freeview and Freesat.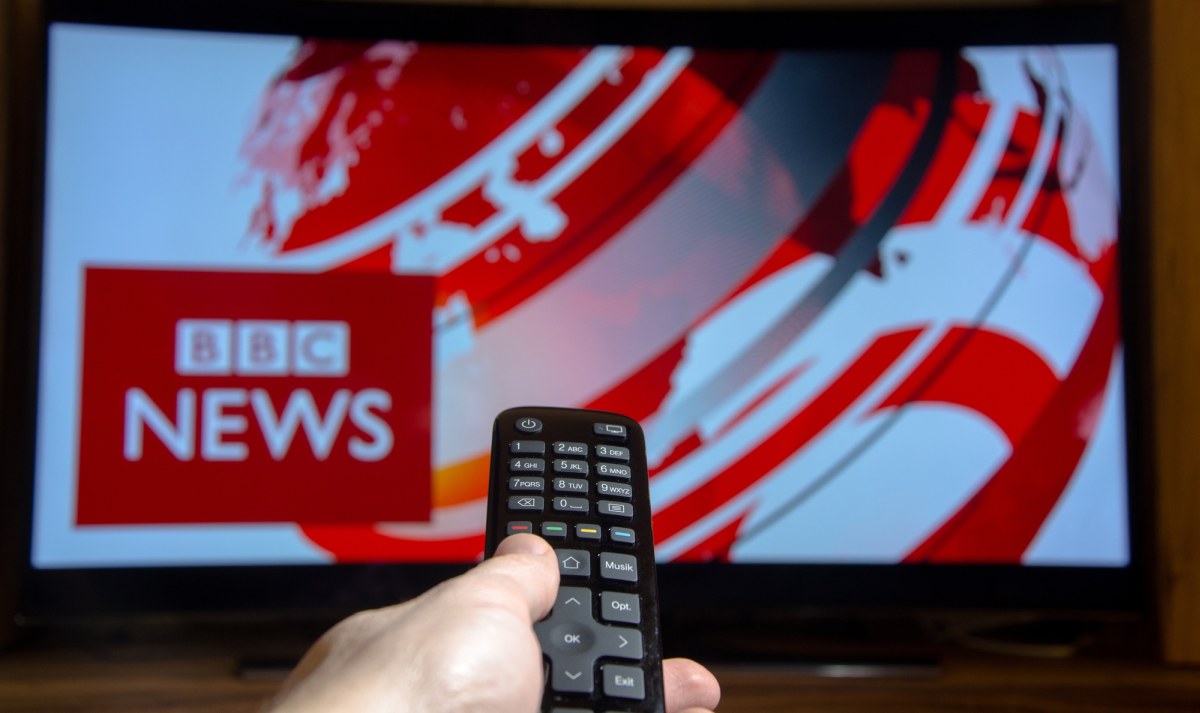 The migration was geared towards ensuring viewers could access the full range of BBC shows in high definition, regardless of their geographical location.
In the first phase, viewers using SD-only equipment will no longer be able to watch local news on the BBC's SD channels on Freesat and Sky.
The transition process was not without obstacles. Support and resources have been pledged to help affected viewers, especially those who do not have the necessary equipment to access HD channels.
An assistance scheme has been put in place To facilitate the transition process, with measures such as eligibility checks to determine the support needed for different families (see more on this below)
Moreover, Skye offered Free Sky Q upgrades To help its customers make a smooth transition to high definition. This was an important step to ensure that viewers could continue to enjoy BBC content without any hindrances.
Early SD shutdown: What prompted the change?
The BBC's latest update highlights the factors influencing the revised timetable.
According to the BBC, demand for resources and support, as measured by uptake since the announcement in March, has been significantly lower than expected.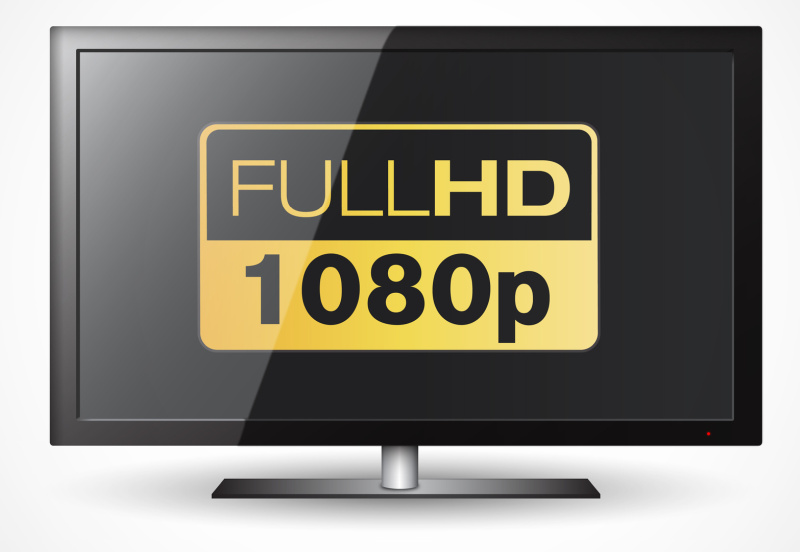 This lower demand indicates fewer homes are still using SD-only satellite equipment, and is a positive sign that many have already switched to HD-enabled devices.
In September, the BBC introduced "lower third of screen" messaging, marking a final push to migrate the remaining SD-only satellite homes to HD-capable devices.
This effort appears to have greatly accelerated the transition process, allowing SD channels to close early.
The notification message, which can only be seen by those affected (households still using SD-only satellite devices), currently says:
"From Monday 8 January, BBC TV and radio services will only be available on HD-enabled satellite devices. To continue receiving BBC services, you now need to upgrade.
By 8 January, viewers on Freesat and Sky platforms will encounter a 'channel closed' message on all SD channels on satellite.
This change will only affect homes that are still using SD-only satellite devices in their primary EPG locations.
These devices will require an upgrade (new HD-enabled device) to continue accessing BBC channels.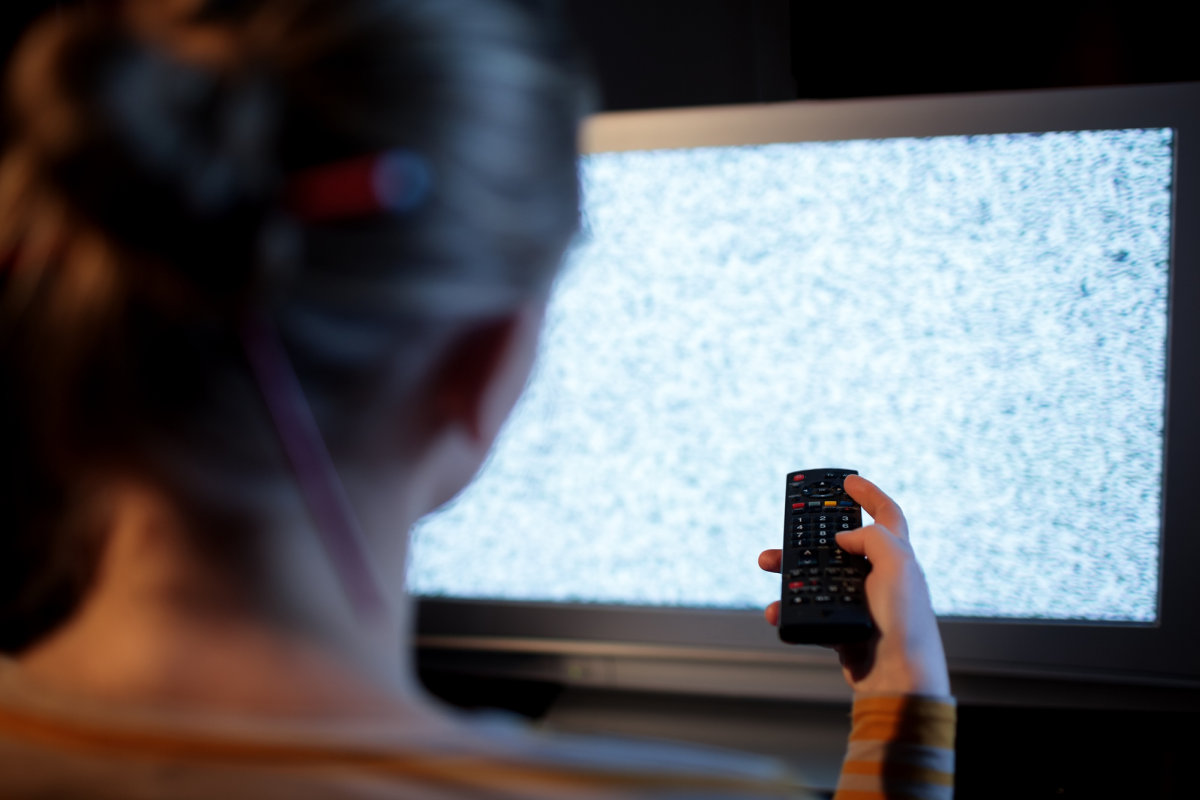 Current assistance plan resources will continue for a short period after January 8, to provide necessary support.
It's worth noting that Freeview channels are not affected by this change, as SD channels will continue to work on Freeview – at least for the time being.
What can affected Freesat users do?
Determining whether you are affected by the imminent cessation of BBC SD channels on Freesat and Sky platforms is crucial for uninterrupted access to BBC content.
Only those with SD satellite equipment (i.e. older Freesat devices) will need to make adjustments before the January 8 deadline.
This change only affects older Freesat (or Sky) devices with SD only. Freesat viewers who aren't sure what type of set-top box or TV they have can use the BBC's verification tool, which broadcasts live on Channel 799 On preys.
In that channel, you'll see one of two messages:
Good news, you are not affected and can continue to use your box as usual.
Sorry, your satellite receiver is unable to receive high definition services. It will be affected by satellite changes.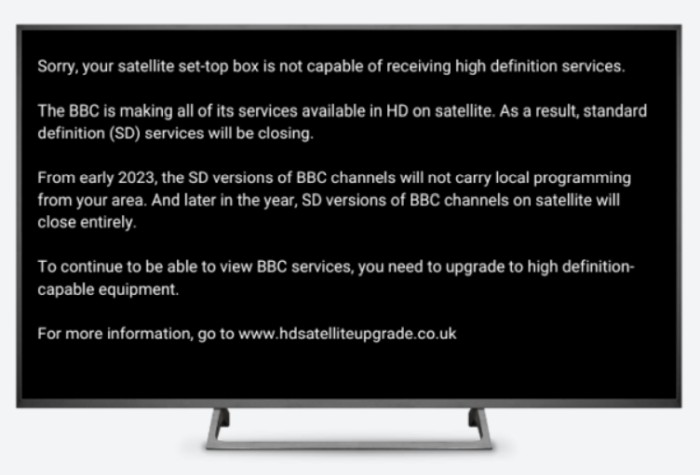 Also, affected viewers should see the new warning message on Freesat's BBC SD channels – if their devices don't support HD.
If you're affected by this change – that is, your current Freesat device only supports SD – you'll need to get a new device (assuming you want to keep watching Freesat).
You must get the new box before 8 January 2024, otherwise you will lose access to all BBC channels on your TV.
If you use Freesat, you can purchase one of these The latest Freesat 4K boxeswhich also contains streaming apps such as BBC iPlayer and ITVX.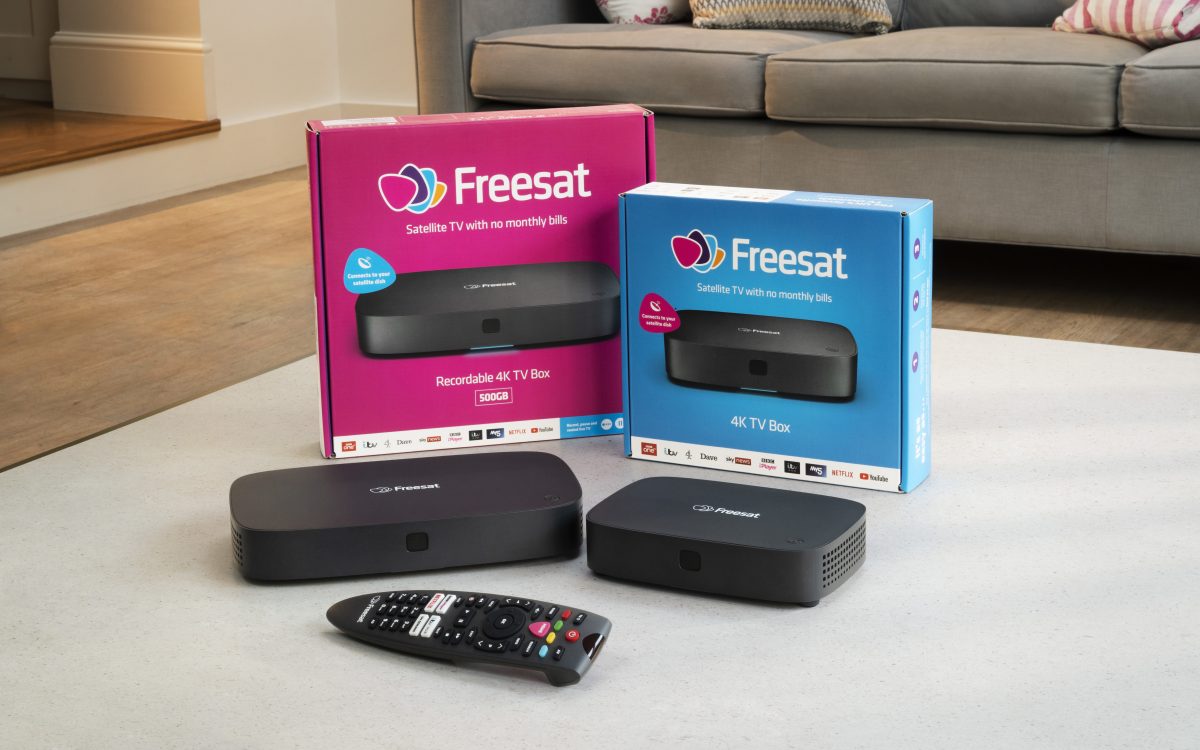 There is also a cheaper and more basic Freesat box – Manhattan SX – Which does not contain recording capabilities or any streaming applications. It usually costs £69.
BBC support plan
Some vulnerable viewers – those over 75 and/or those in receipt of one of a small number of special benefits – are eligible for assistance.
If they qualify, they will be able to get £40 voucher (via email) To be used toward the purchase of a new Freesat device – either a 4K or Manhattan SX device.
Subject to the financial hardship test, some viewers may be eligible for a voucher to cover the full cost of a replacement Freesat box to enable continued reception of BBC channels – but this voucher can only be redeemed on the cheaper Manhattan SX set.
Furthermore, vulnerable viewers who cannot install the device themselves may be eligible for a home visit.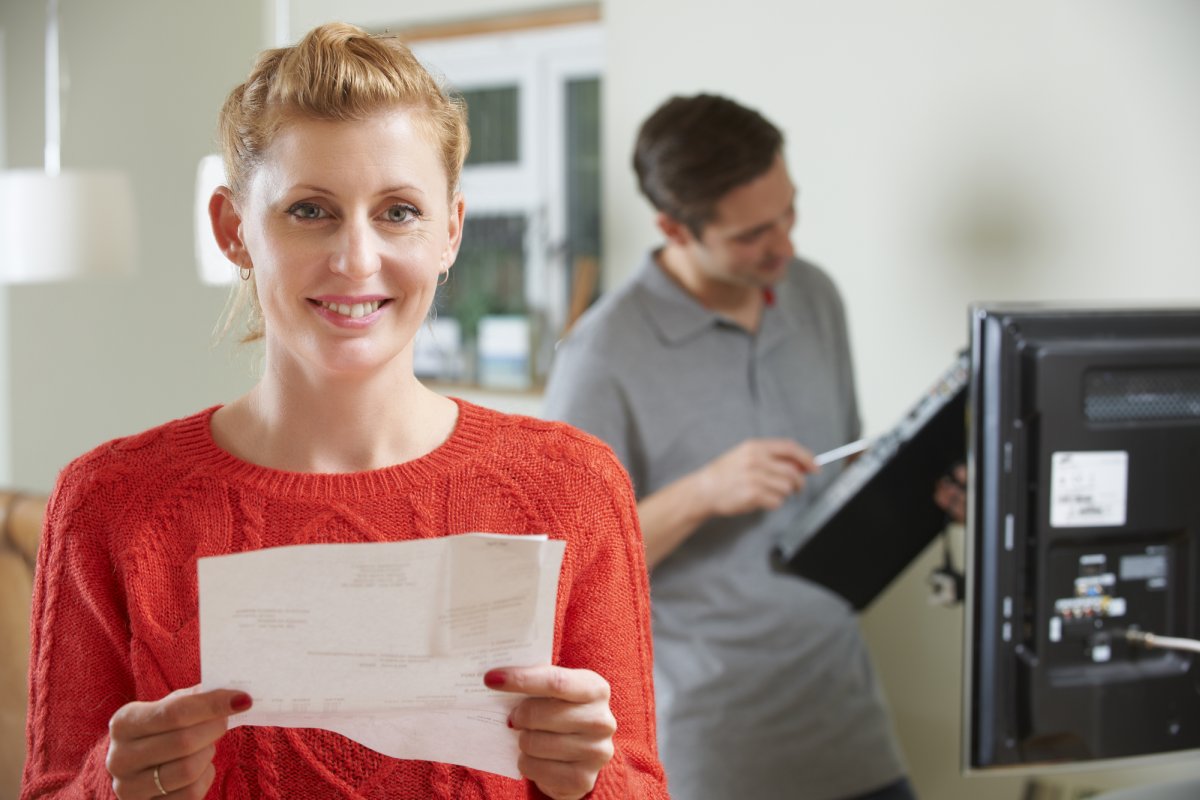 It's important to note that these home visits are only intended to help with the installation of a Freesat box within a home – the BBC does not offer assistance with installing (or repairing) the satellite dishes themselves, as viewers are expected to already have those.
Those who qualify for further assistance through the HD Satellite Upgrade System will need to meet the following requirements:
Watch services on the primary TV in their home via an SD satellite set-top box only
You are over 75 years old or receive one of the following benefits: Personal independence payments (a point); Attendance allowanceor Supporting the movement of war retirees.
The BBC says exceptions may be made to the eligibility criteria: for example, "where a viewer with mobility issues relies on a secondary group".
These matters will be reviewed on a case-by-case basis.
To check if you are eligible – you can answer simple questions on the BBC websiteEligibility checker".
What can affected Sky users do?
To check if your Sky Box is SD-only and won't be able to show the BBC HD version, Sky suggests:
He chooses Channel 105 on your remote control.
If you see Channel 5 HDYou are not affected. If you see channel 5 In SDYou are, and you'll need to upgrade your Sky Box.
(Note that channel 5 is not affected by these changes – it is just a way to check if your receiver is currently capable of displaying HD channels.)
Alternatively, you can:
He presses Services On your Sky remote
He presses 4 ,then 5
Check your box issue numberAs we see here: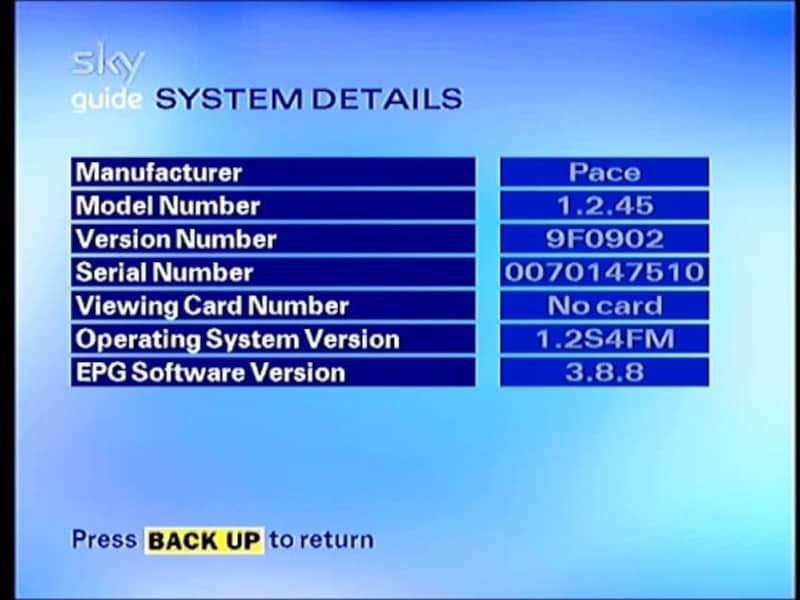 The affected Sky boxes are:
Digibox:
4F01 to 4F06 (Amstrad)
4E01 to 4E05 (Grundig)
9F01 to 9F08 and 9F0A (speed)
0F01 to 0F05 (Panasonic)
4E06 to 4E08 (Thompson)
Sky+:
4F2001 to 4F2006 (Amstrad)
4F2101 to 4F2118 and 9F2101 to 9F2137 (Amstrad or Pace)
9F2001 to 9F2024, PVR2, 9F2201 to 9F2235, 9F2301 to 9F2339 (PES)
4E2101 to 4E2141 (Thompson)
These changes will not affect Sky customers using newer Sky Box devices, such as Sky Q, or streaming-based devices – Sky Glass And Skystream.
If you only have one of the older Sky SD boxes affected, you can Upgrade to Sky Q at no extra cost.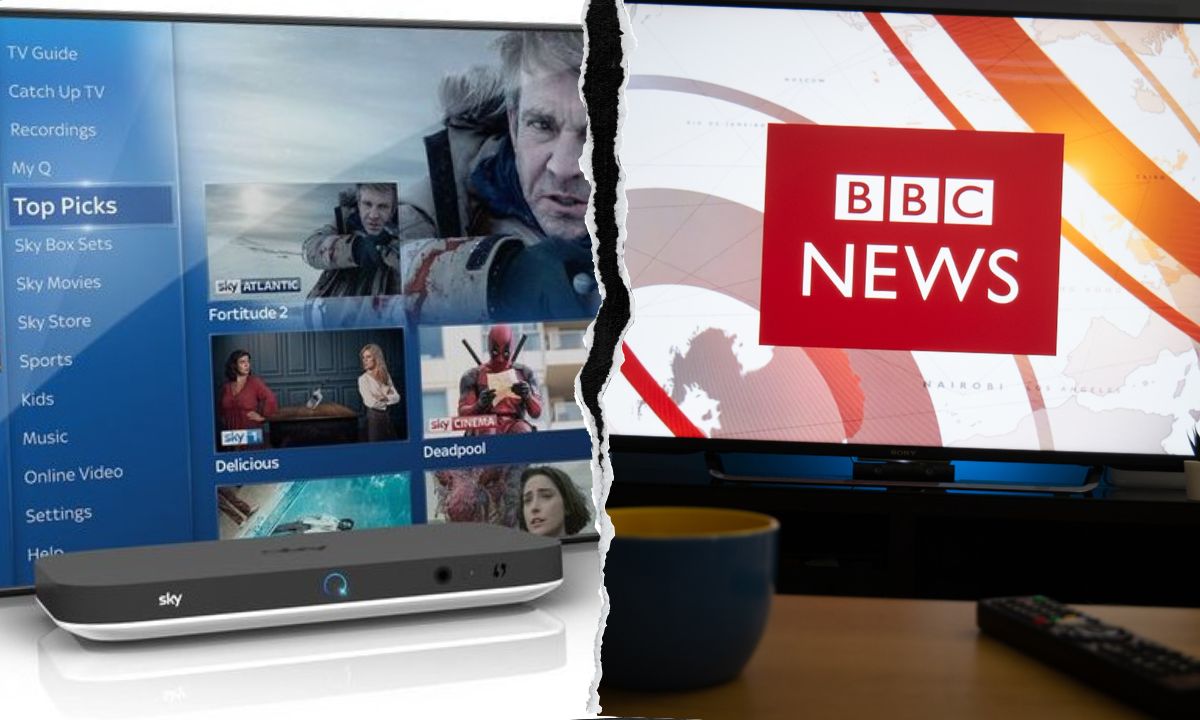 Most importantly, Skye says There will be no change to the Sky TV package or prices.
This is important, as customers who want to upgrade their Sky equipment are usually required to also upgrade their plans and contracts – that won't be the case here (see our guide to The price of Sky HD changes).
Once you've registered, your new Sky Q box will be installed by a Sky engineer at a time that suits you.
At this point, you will be able to watch all BBC channels in HD – including all local programmes.
In order to start the upgrade process, Sky customers can call 03337595121or Upgrade online through this link.
Heaven has too Set up a dedicated help page for this issue.
It's important to note again that people who don't upgrade to HD satellite devices by January 8 will lose access to all BBC TV channels and radio channels on Sky and Freesat.
For more news and updates, you can Subscribe to our free newsletter.