In this guide, I'll show you how to install IPVanish on FireStick. IPVanish is compatible with all Amazon Fire TV streaming devices, including Fire TV Stick Lite, FireStick 4K, FireStick 4K Max, Fire OS smart TV, and Fire TV Cube. Read on to discover more about the VPN service and how to set it up on your FireStick.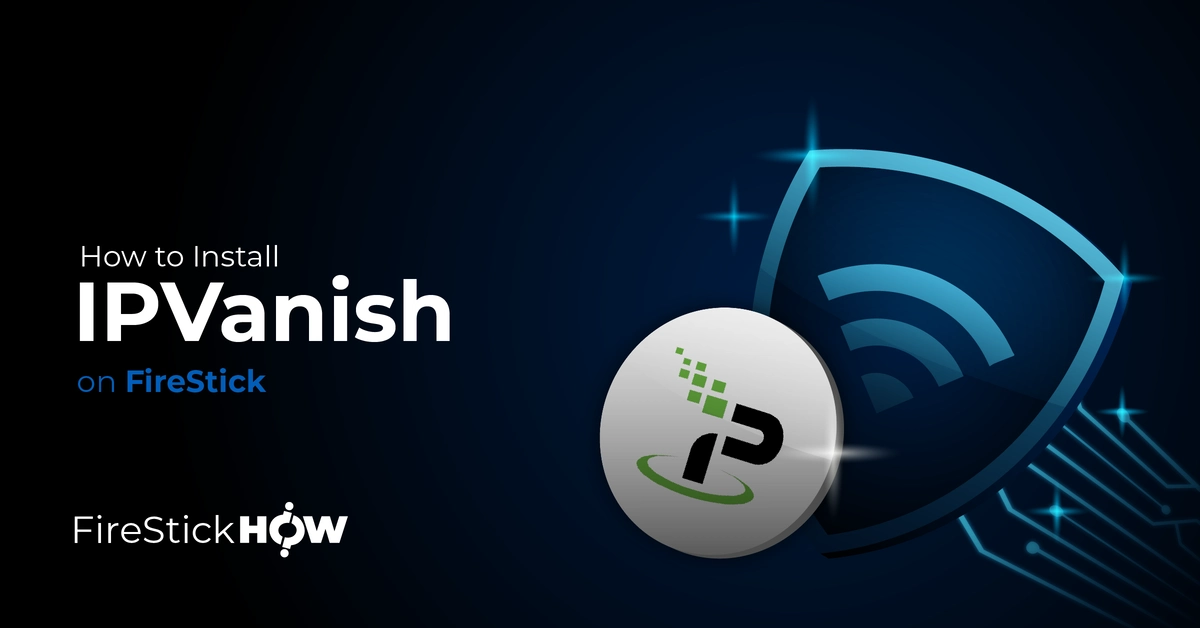 The Amazon FireStick is one of the best streaming devices in the market, helping users transform their regular TVs into smart TVs. You can stream a wide variety of content on the device, from movies, TV shows, music, and games to live TV over the internet.
However, as you browse the internet looking for content on your FireStick, your IP address and streaming habits are visible to third parties. These third parties can be your Internet Service Provider (ISP), local authorities, or hackers who snoop on users' data.
So how do you protect your privacy and data when using your FireStick? That is where a virtual private network(VPN) comes in handy. IPVanish is one of the best VPNs for FireStick and will be the focus of this post.
How to Get IPVanish for the Amazon Fire Stick or Fire TV
IPVanish is a premium VPN service with a monthly, yearly, and two-year plan. To secure your internet connection with IPVanish, create an account and buy one of the plans:
2-Year Plan | Billed $79.99 | Effectively $3.33 monthly | Maximum Savings (72%) | 30-Day Money-back Risk-free Guarantee
1-Year Plan | Billed $53.99 | Effectively $4.50 monthly | You Save 62% | 30-Day Money-back Risk-free Guarantee
1-Month Plan | $11.99 Month-on-month
Once you've created an account and paid the subscription fee, the next step is installing the IPVanish app on your FireStick or Amazon Fire TV.
After installing the VPN app on your Fire TV, set it up and customize the settings to suit your needs. These customization settings include choosing the country, region, and available server, split tunneling, automatic app launch, and the VPN protocol.
We will talk about all of it in detail later.
Is It Legal to Use IPVanish?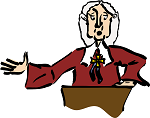 Yes, using the IPVanish VPN service in most countries (including the USA) is legal.
There is nothing wrong with using a private network to protect and secure your internet browsing activities, bypass ISP's restrictions, or get around geo-blocking.
However, VPNs are banned in some countries, such as China, UAE, and North Korea.
How Does a VPN Work?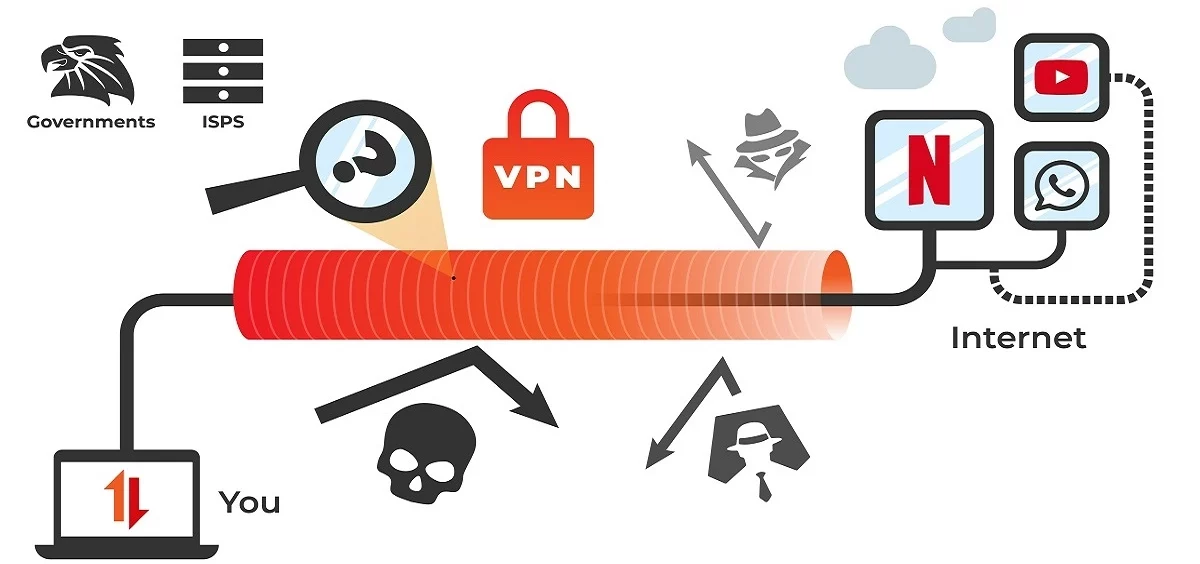 Usually, your online activity is visible to your ISP and local authorities when browsing the internet. Moreover, cybercriminals can access your data, making you a target of data theft and other online crimes.
A VPN protects your online presence by masking your browsing activity, IP address, and data from third parties. It creates a secure tunnel through which your data flows to servers worldwide. Additionally, using a VPN on your Fire TV device helps bypass geo-restrictions by connecting to a server in your target country.
For instance, if you want to watch a Korean TV show restricted to users in Korea, you can connect to a server near Seoul, South Korea, to gain access to the show.
Does IPVanish Affect My Internet Speed?

All VPNs affect your internet speed, and IPVanish is no exception.
Encryption, the distance between your device and the server, and additional safety features may slow down your internet speed a bit, and it should not be a cause for alarm.
IPVanish offers decent speeds. Therefore, if you use high-speed WiFi (50 Mbps or higher), you may not experience any changes. However, if the internet speeds are too slow, change your VPN protocol from the settings. Additionally, switch to a server that's closer to you.
Subscribe to IPVanish
Follow the steps below to subscribe to IPVanish VPN:
1. Go to IPVanish Official Website.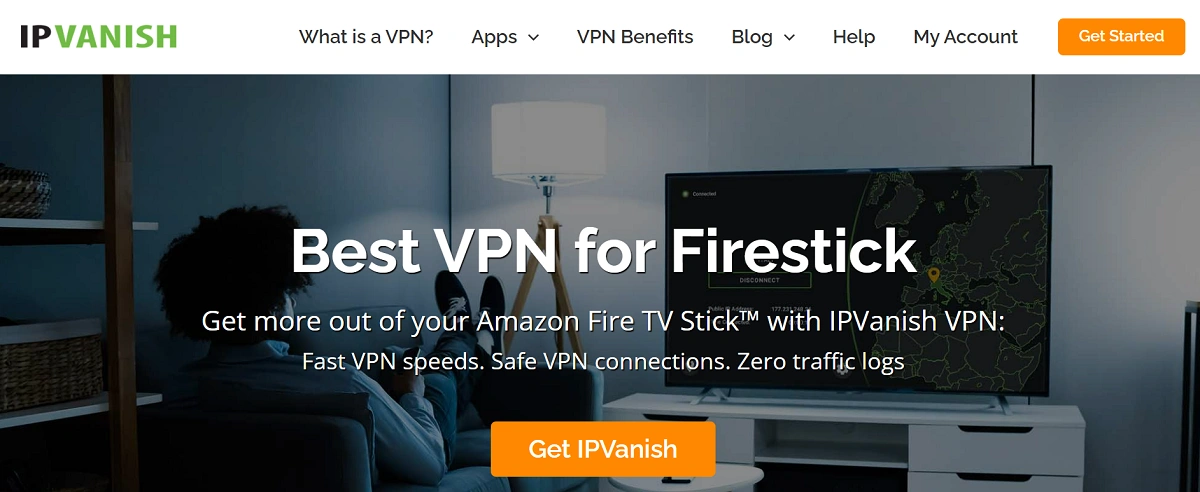 2. Scroll down and select your preferred plan by clicking Start Now.

3. Enter your email address in the provided field, select your payment method, and click Subscribe now. Follow the on-screen steps to complete your payment. You'll receive an activation email. Click on the link to activate your IPVanish account.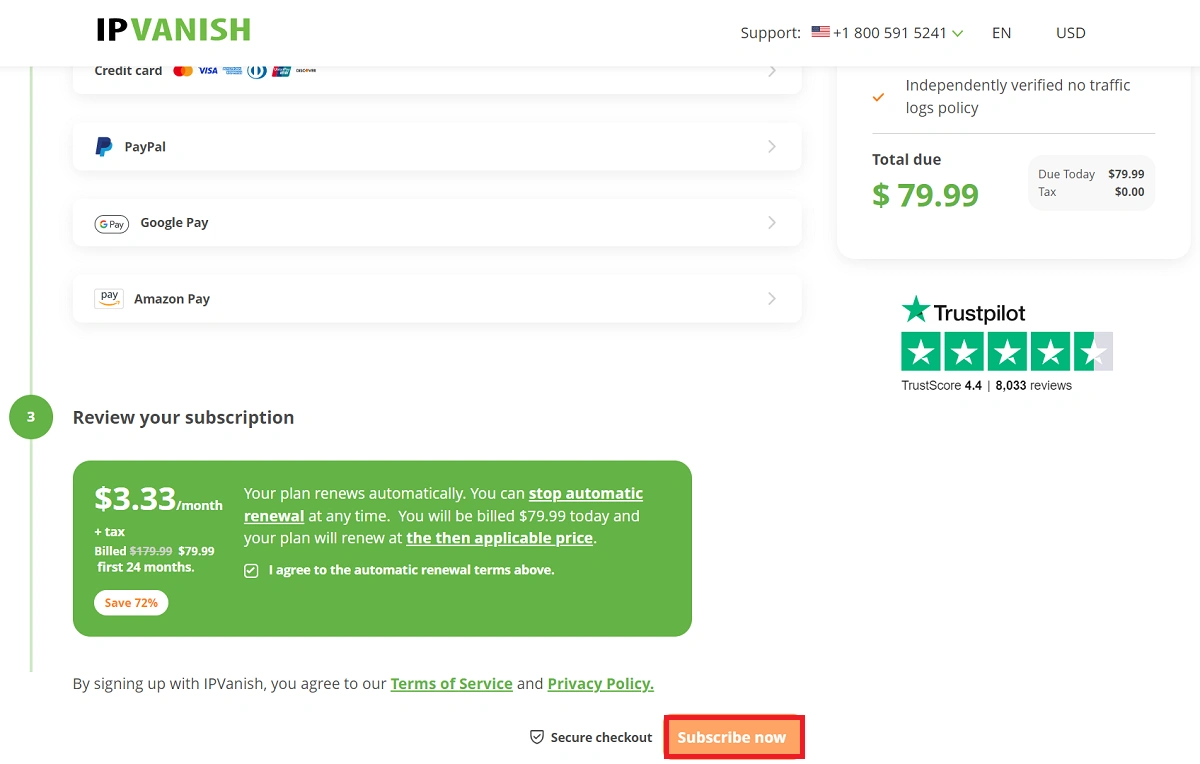 Once you've created your IPVanish account and subscribed to a plan, open your FireStick to install the app.
How to Install IPVanish on FireStick
You can install IPVanish VPN on FireStick using one of the two methods – directly from the Amazon App Store (preferred) or sideloading it using Downloader.
Note: Sideload the IPVanish app only if you can't find it on the Amazon Store. 
Method 1: Install IPVanish on FireStick via Amazon App Store (Official Method)
IPVanish is an official app. Installing the app on your Amazon Fire TV Stick is straightforward because you only need to find and download it. Follow the steps below to install IPVanish on FireStick directly from the Amazon App Store:
1. From your FireStick home screen, click Find (the magnifying glass icon).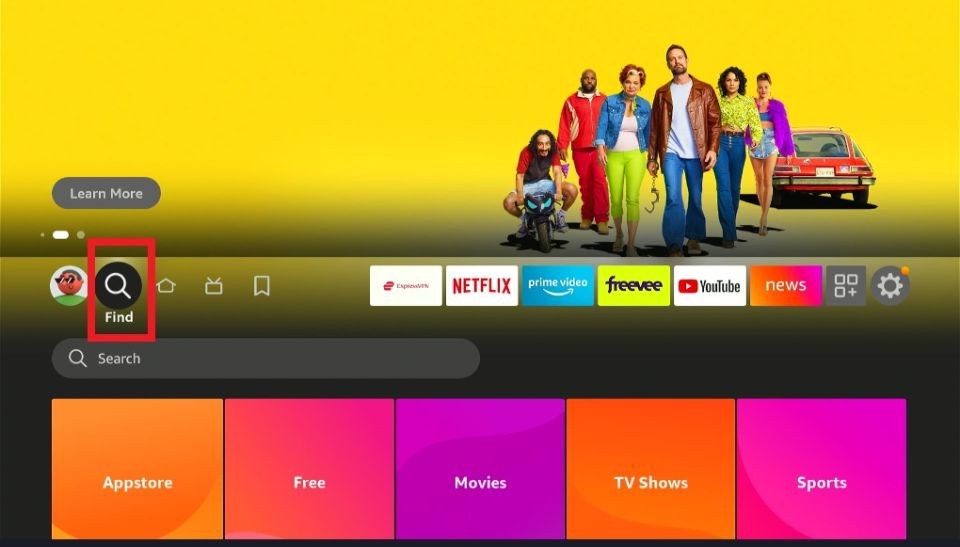 2. Click Search.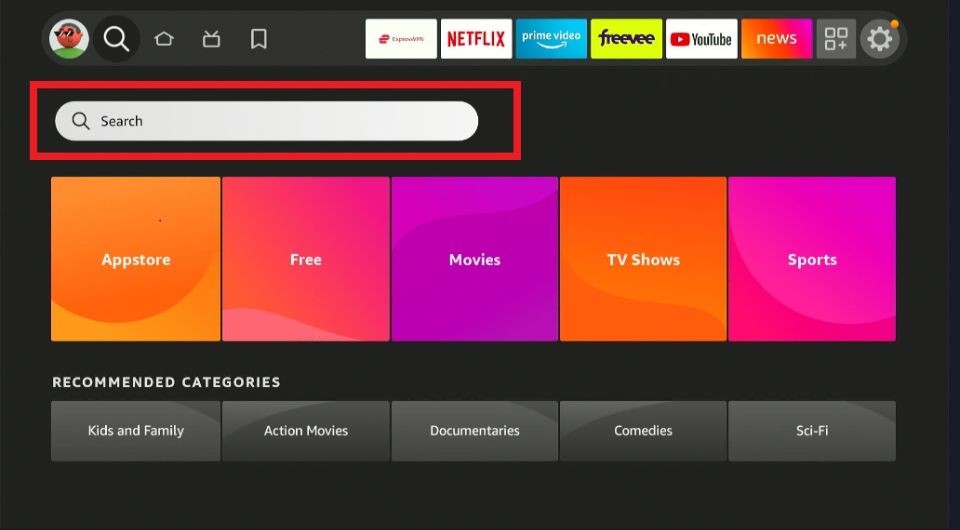 3. Using your FireStick remote, type IPVanish in the search bar and choose IPVanish in the suggested results.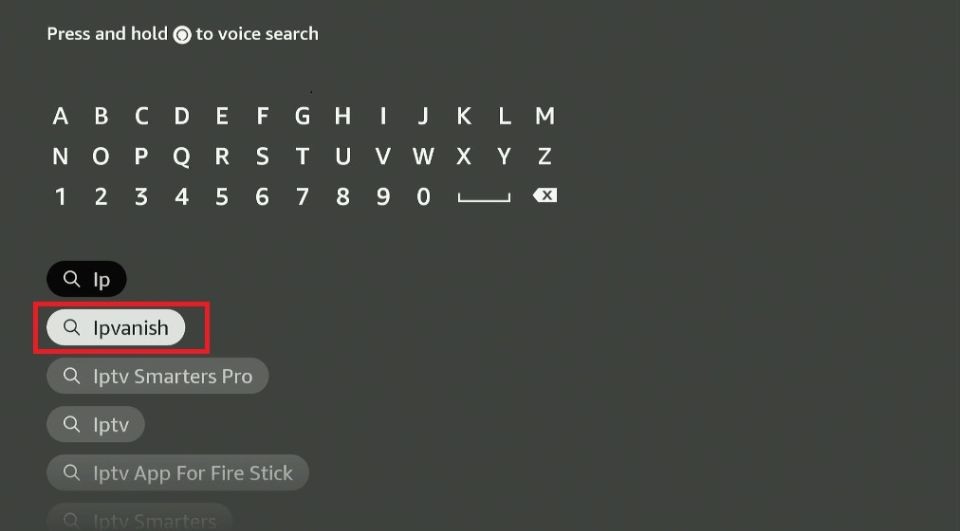 4. Select IPVanish under Apps & Games.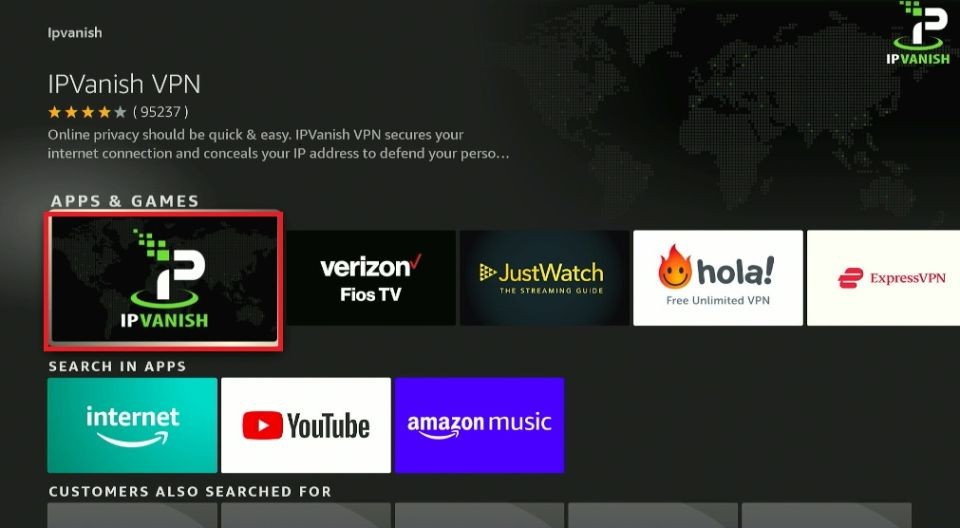 5. Click Get or Download to install the app on your device.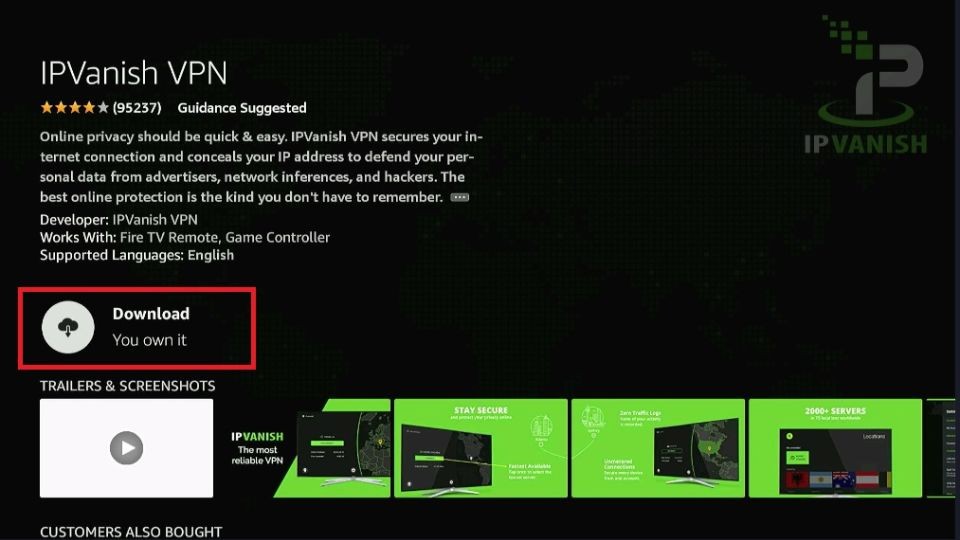 6. Click Open once the app installation is complete.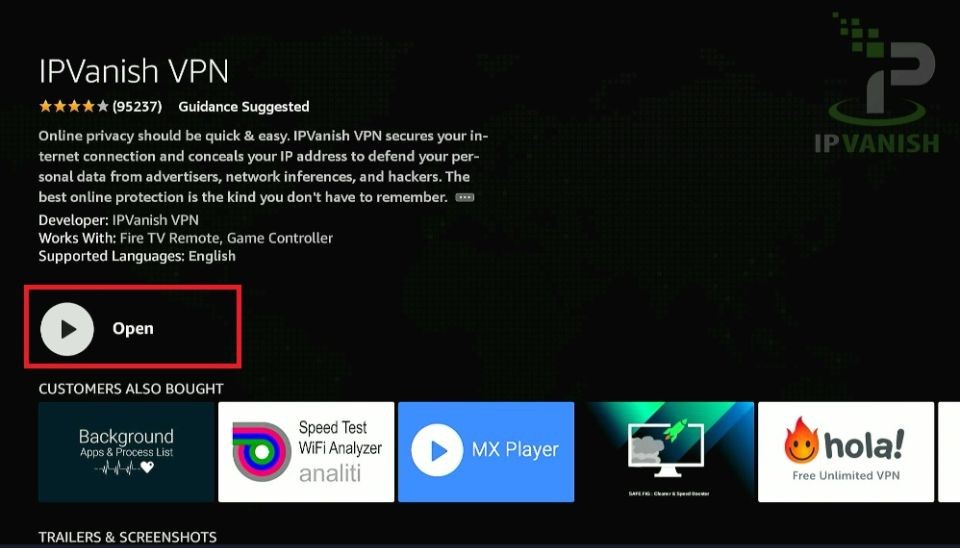 Method 2: Install IPVanish on FireStick (Downloader App)
If, for some reason, you can't directly download the IPVanish app from the Amazon App Store, you can sideload it from an external site using the Downloader app. However, you need to tweak your Fire TV device's settings to allow installation from unknown sources. Here is our guide to installing Downloader from Amazon App Store.
Once you've installed Downloader and prepared your FireStick to allow sideloading, follow the steps below to install IPVanish app on your Fire TV Stick:
1. From your FireStick home screen, click Apps or the three squares with a plus icon.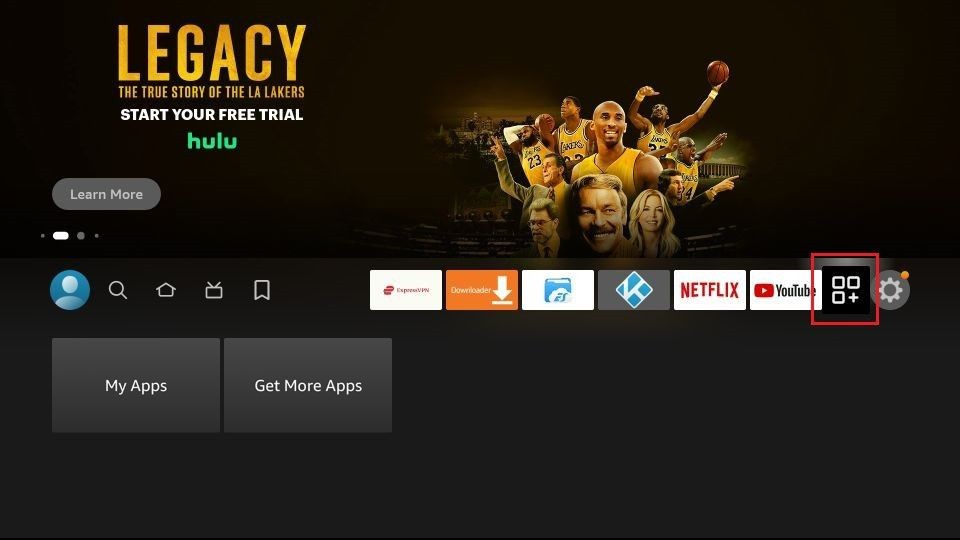 2. Select Downloader.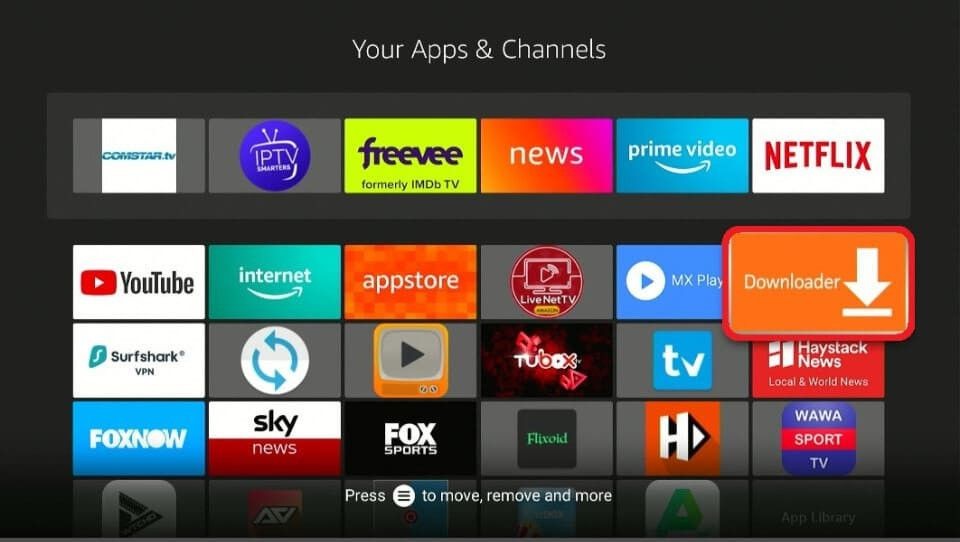 3. Click on the URL search box.
4. Enter the following URL: firestickhow.com/ipvanish and click Go.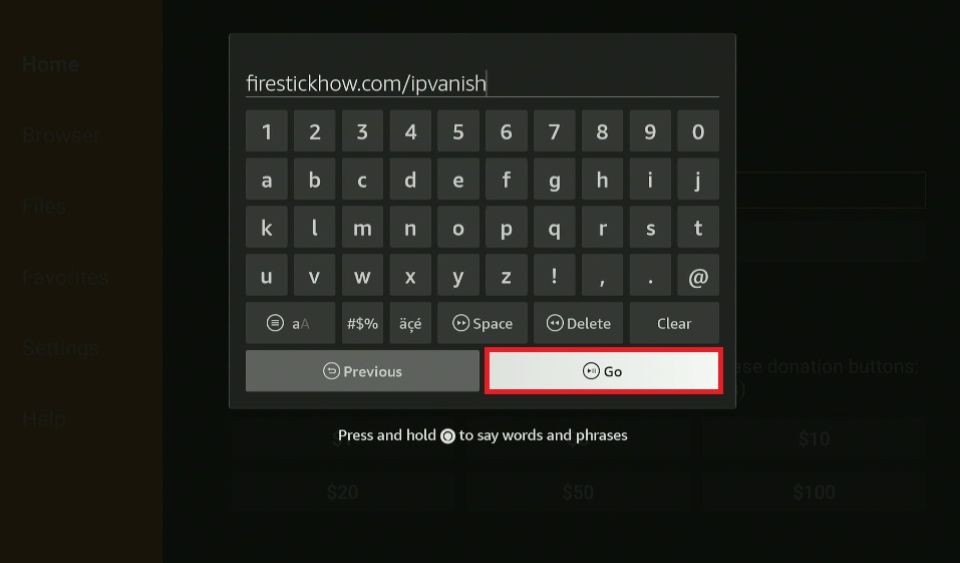 5. Click Install and wait a few minutes for the app to install.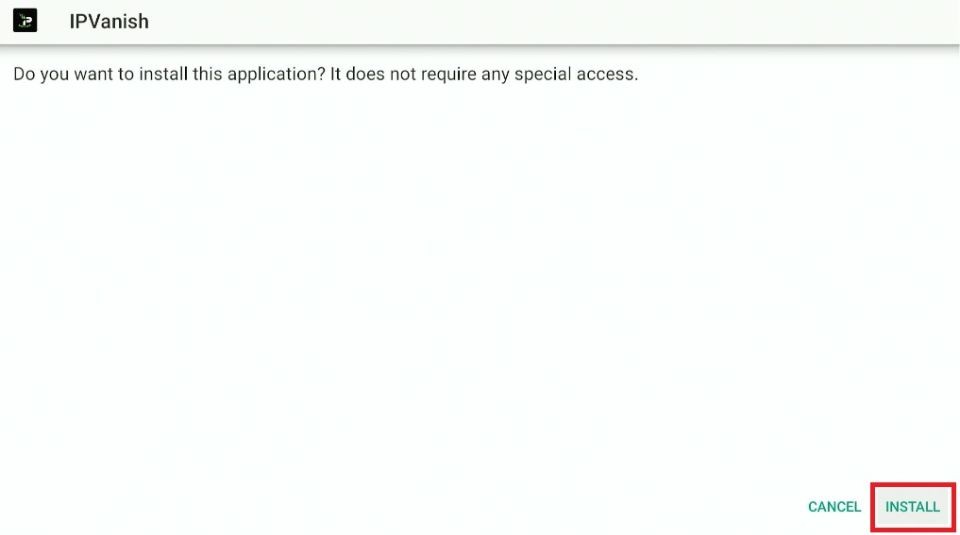 6. Click Done.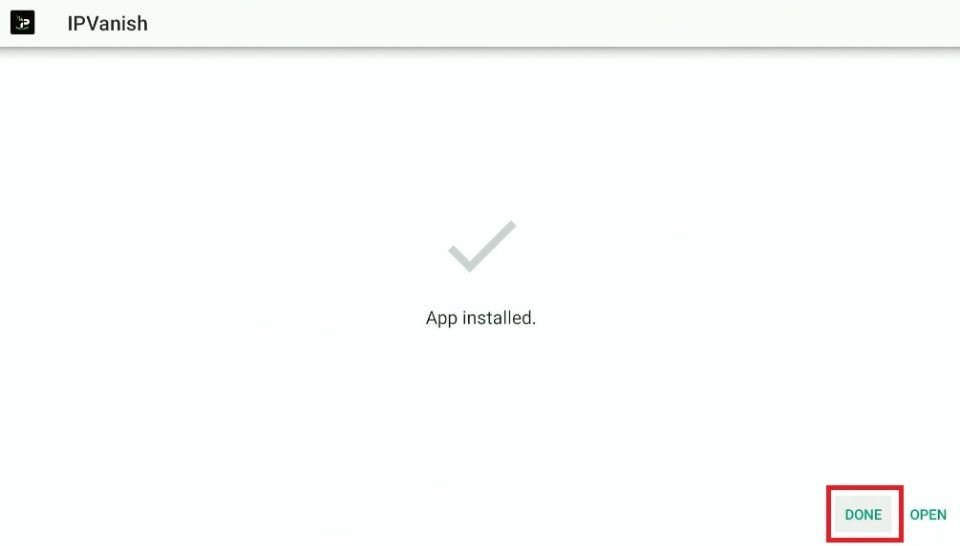 7. Select Delete to remove the APK file.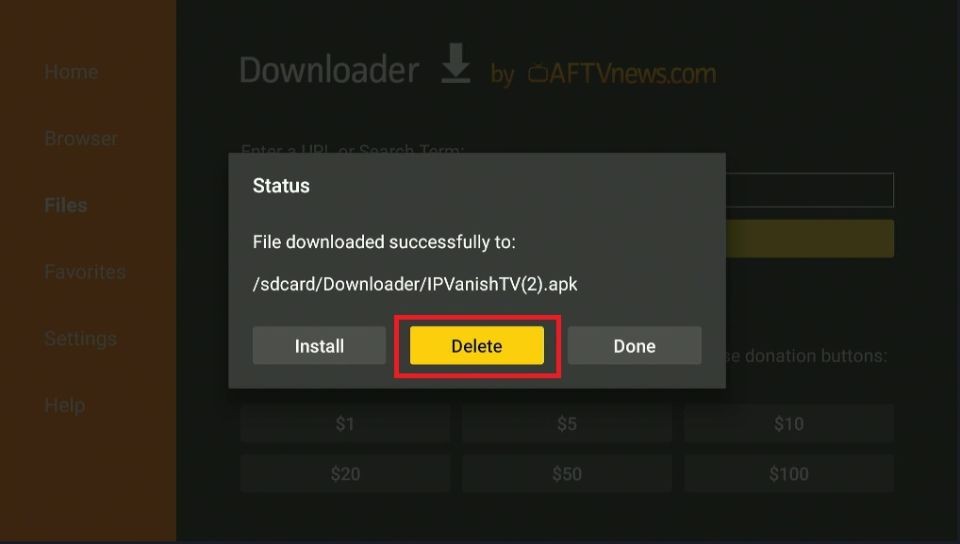 8. Click Delete again.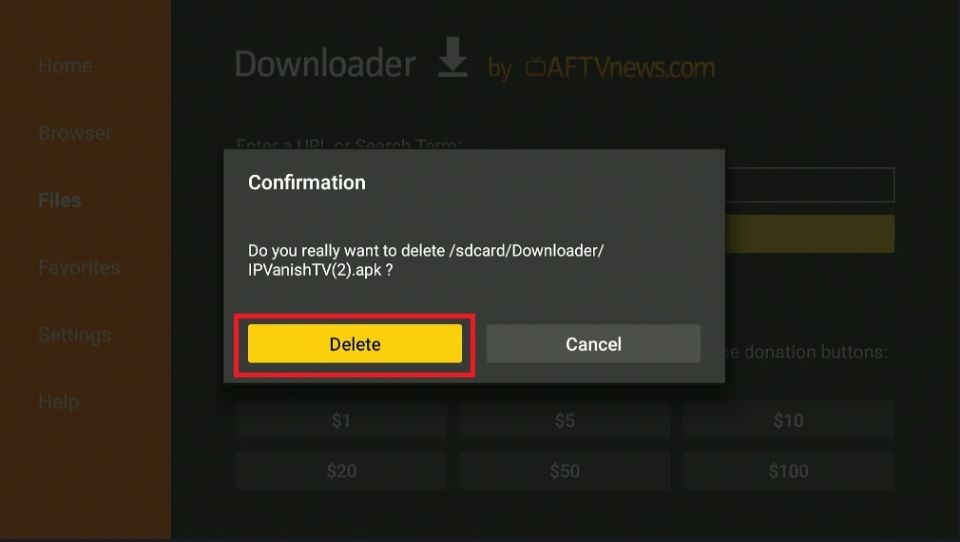 How to Use IPVanish on FireStick
Once you start IPVanish, you'll see a log-in prompt. First, enter your login credentials in the provided fields. Then, click login to sign in to your account.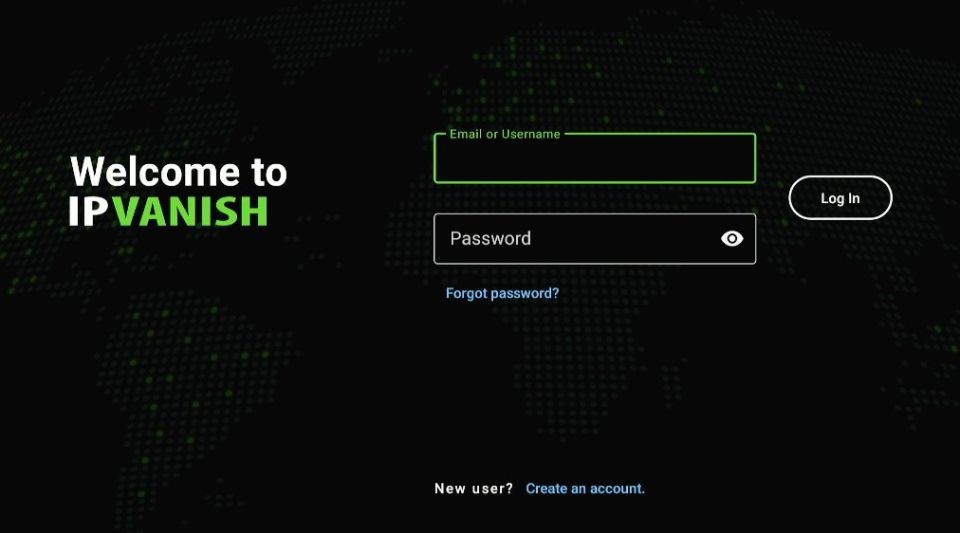 Connecting to a Server
You'll see your public IP address when you sign in to your account. To connect to a server, click Connect.
You can connect to a different server if you are not content with the provided IP location. From the left side menu, click on the location icon.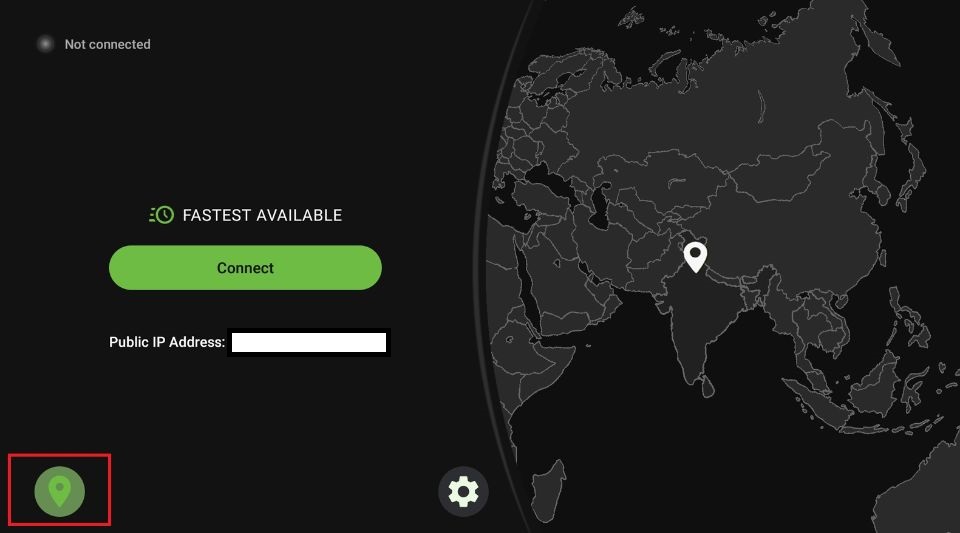 Select your preferred country.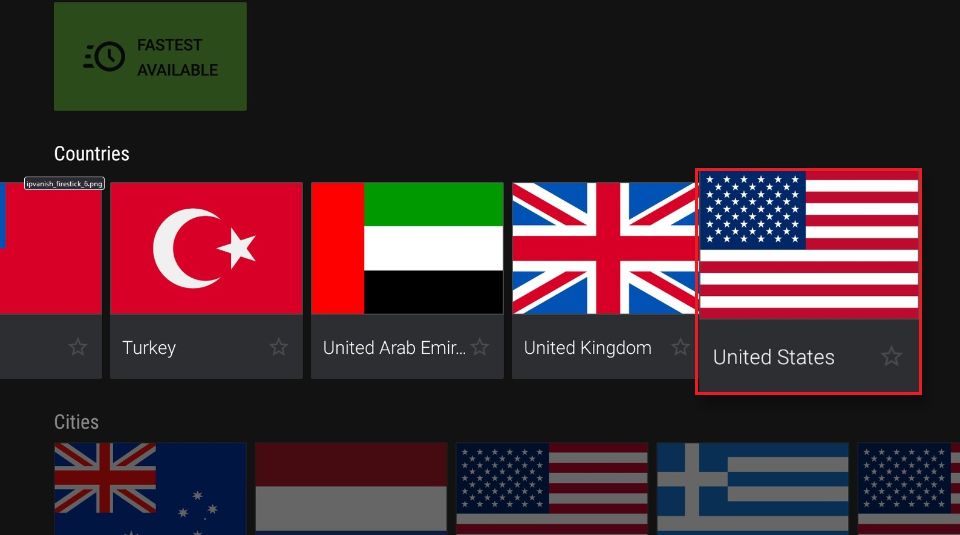 Select your preferred city.
Connect to the selected country.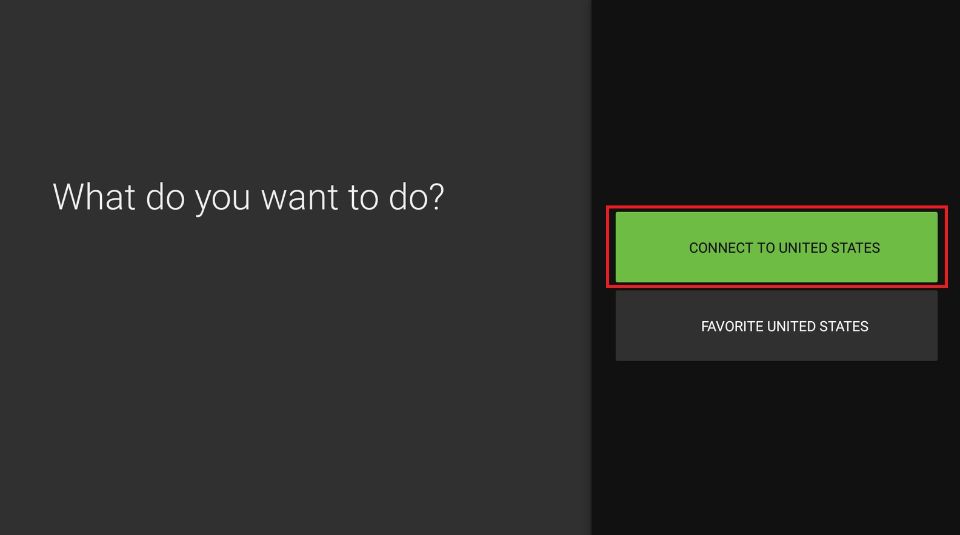 Connect to the selected city.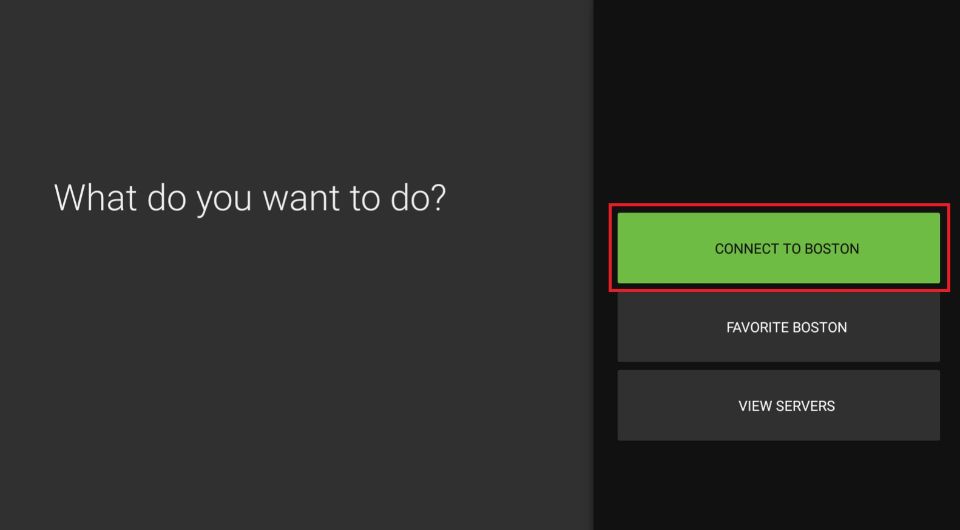 Select your preferred server.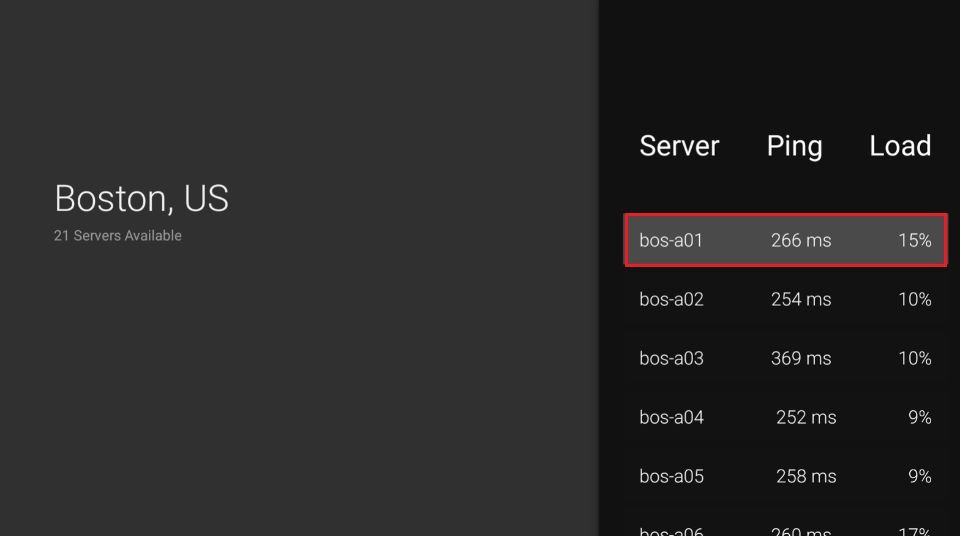 To determine whether you are connected to a selected server, check the IP address, city, and country name at the top left. You will also see the upload and download speeds below the profile and settings icons on the top right. Additionally, the time you've been connected to the VPN will show in hours and minutes at the bottom left.
Manually Selecting a VPN Location From Your Favorites
If you want to connect to a server manually, you can manually select a location from a particular city, country, or favorites. Follow the steps below to select a VPN location from your favorites manually:
1. Click the location icon in the bottom left corner.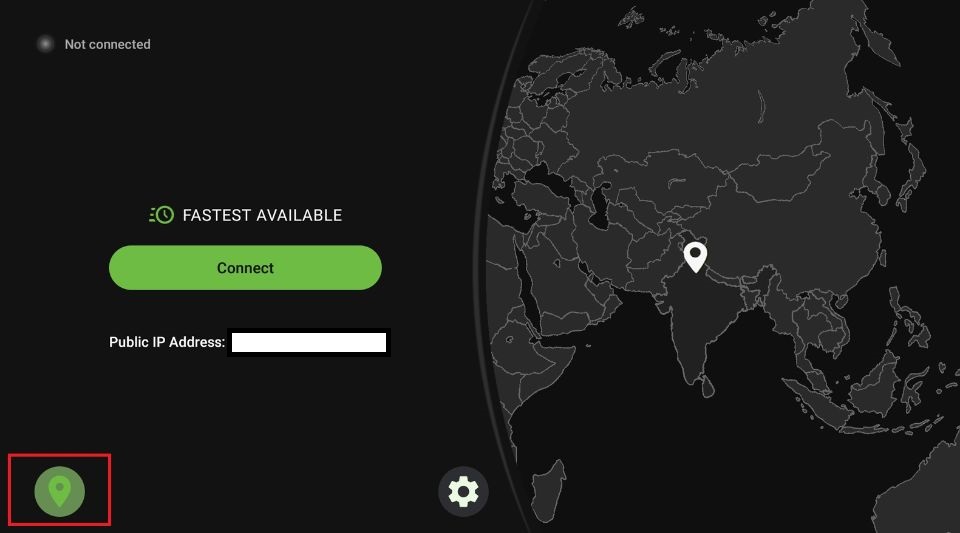 2. Scroll down the Locations screen and select Favorites. Alternatively, scroll through the various locations and select your preferred one.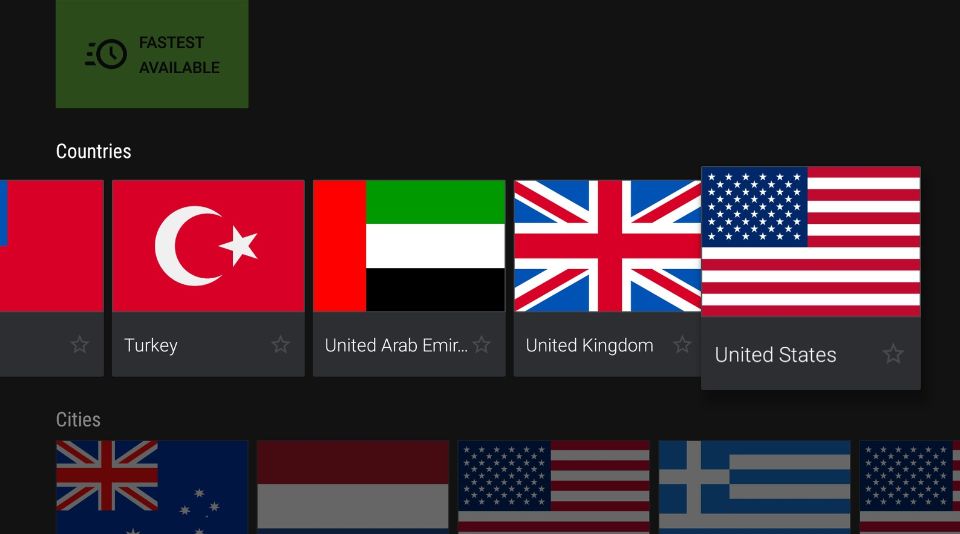 Configuring IPVanish App Settings
For the best experience, you can customize the app settings, such as allowing automatic app launch, VPN protocol, and port. Click the settings icon.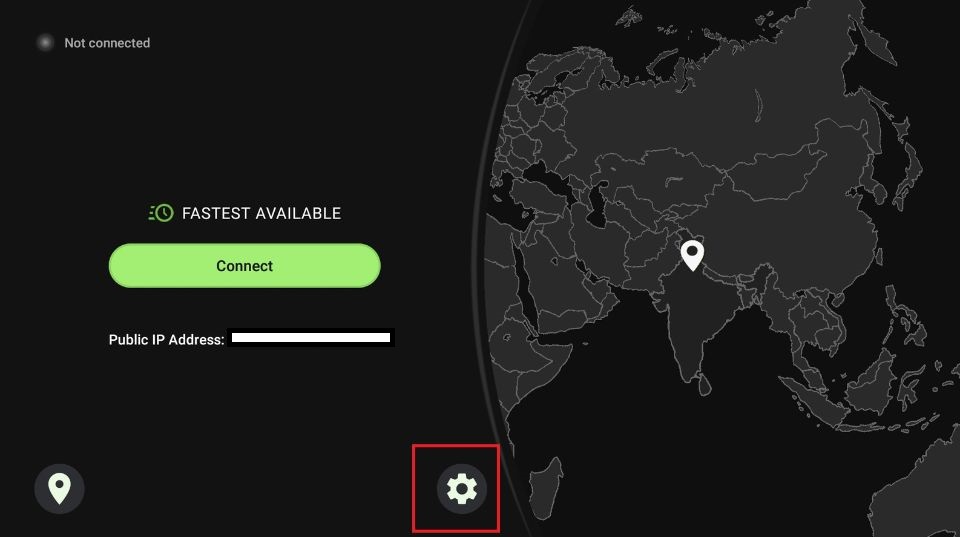 The first option is Connect on Android Startup to enable starting the IPVanish app from a connected Android phone. You can enable or disable this feature, depending on your preference.
Some apps and websites block connections from VPN servers. Split tunneling is a VPN feature that lets you use both the VPN server and standard servers based on the app or site. If you want some apps or sites to use the standard servers, enable split tunneling.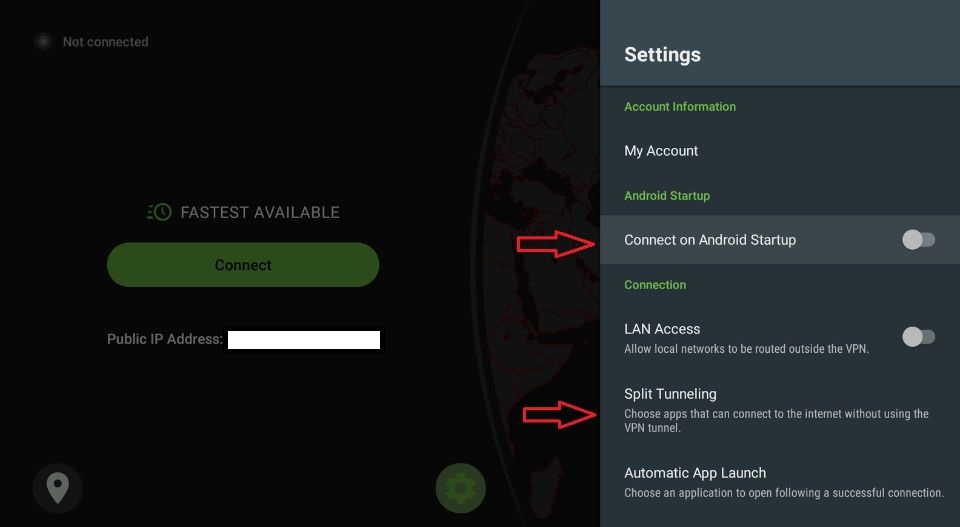 The other option to enable or disable is Automatic App Launch. If you enable the feature, the IPVanish app will automatically connect to your home network when you open the FireStick. Additionally, the feature lets the app auto-reconnect to the network if it drops and is restored.
You can change your VPN protocol by selecting a different one under the VPN Protocol section. IPVanish has two protocols; OpenVPN (TCP) and OpenVPN (UDP). Changing from one protocol to another can sometimes solve your slow internet speed issues.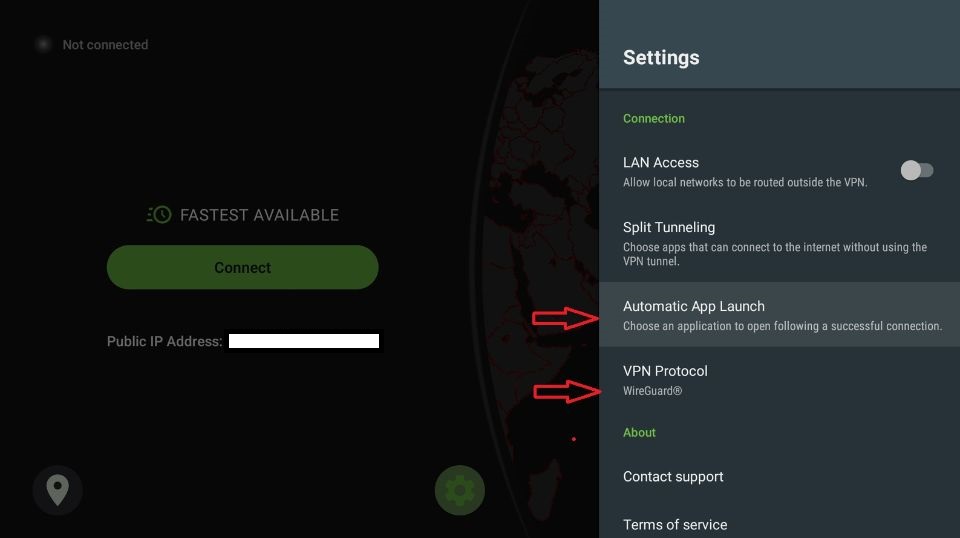 How To View Your IPVanish Account Details on the My Account Screen
Follow the steps below to view your IPVanish account details on the My Account Screen:
1. Launch the IPVanish app and click the settings icon.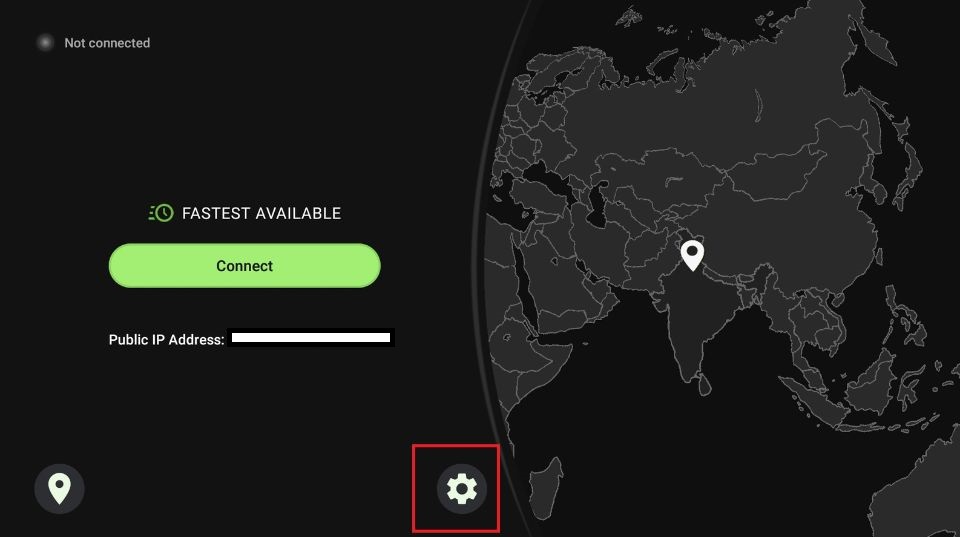 2. Select My Account.
3. Your account details show on the screen, including your email address, account status, tier, and renewal date.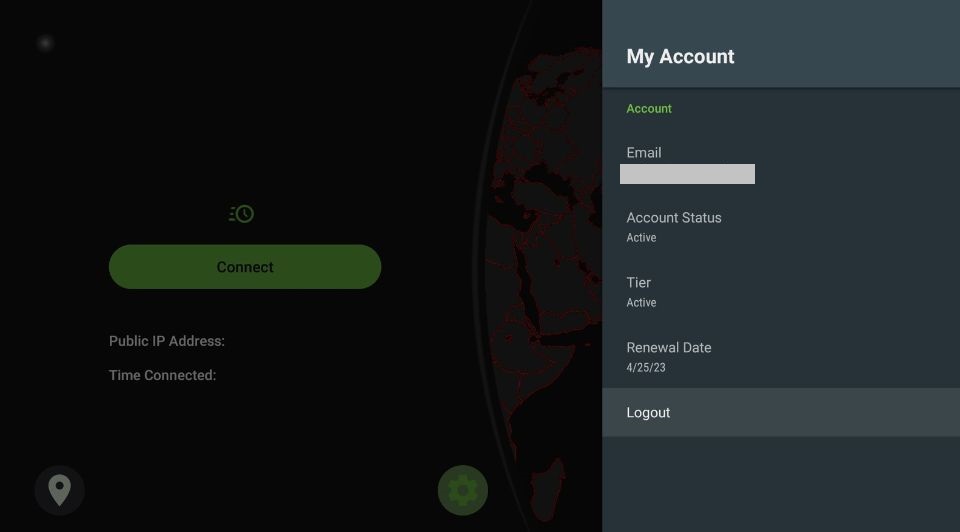 General FireStick VPN Troubleshooting Tips
IPVanish app works perfectly with all Fire TV devices except first-generation FireSticks. If you are having connection or speed problems with the VPN, try the following troubleshooting tips:
Check your internet connection. If the network is faulty, restart the modem or router.
Ensure your FireStick is in the same room as the wireless access point
Clear IPVanish app cache
Update the IPVanish app
How to Update IPVanish on FireStick
Your installed FireStick apps will automatically update whenever the developer releases a new update. However, the automatic update needs to be enabled on your device. Follow the steps below to enable automatic updates on your FireStick:
1. Scroll to the settings icon on your FireStick home screen and select Applications.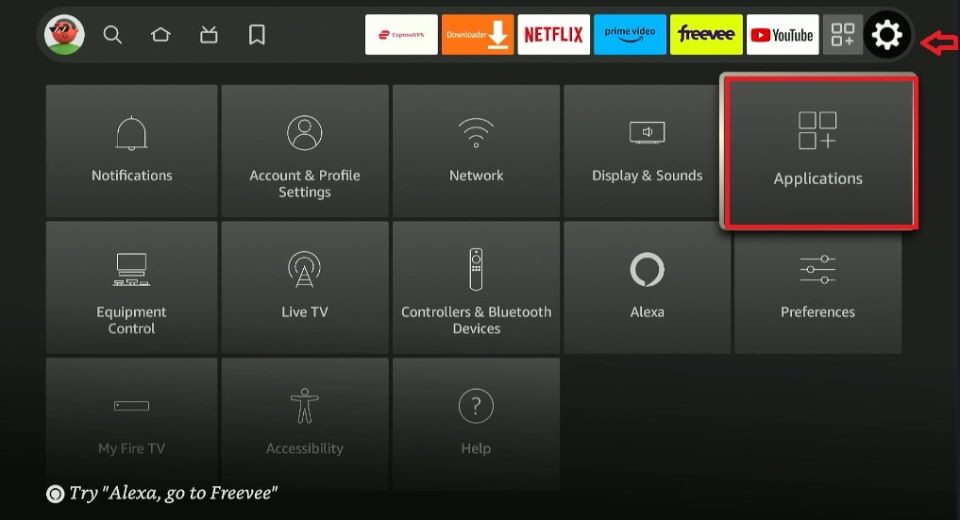 2. Choose App Store.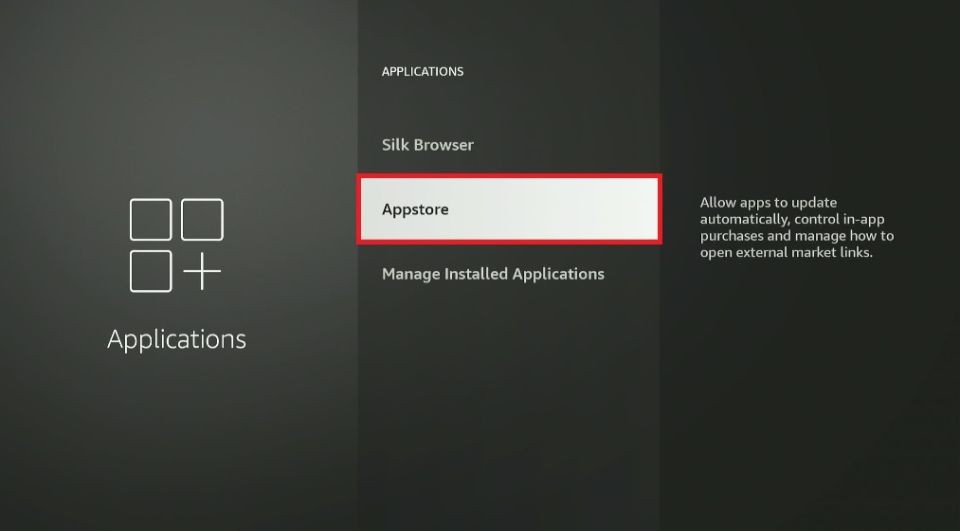 3. Turn on the Automatic Updates toggle.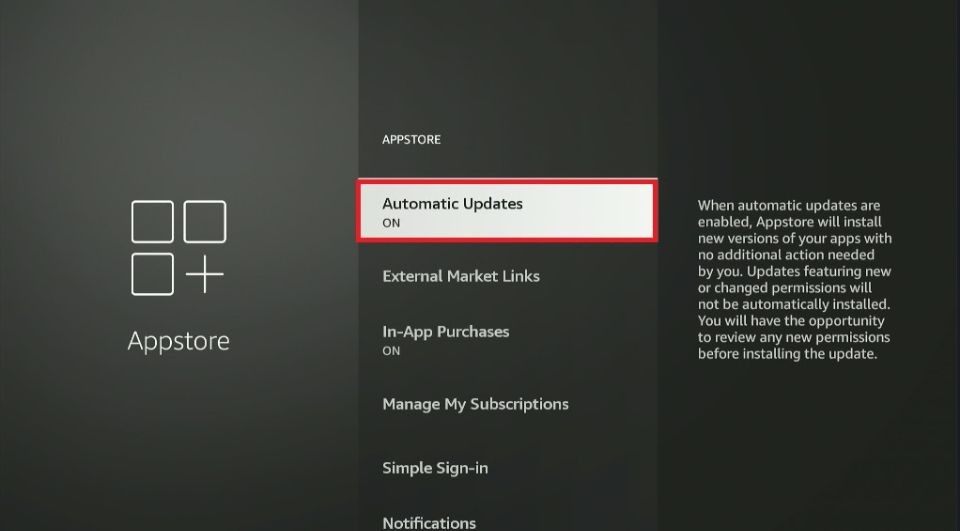 What Are the Benefits of IPVanish on FireStick?
There are several great VPN services for your FireStick. So what makes IPVanish stand out from the rest? Below we look at the benefits of IPVanish on your Fire TV device.
Decent Speeds
As mentioned earlier, all VPNs affect your internet speed. However, some services lower internet speeds more than others. IPVanish offers one of the best internet speeds, making it an excellent choice for streaming content in HD and 4K quality with minimal buffering.
Economical
IPVanish is relatively affordable compared with other top-tier VPN providers of its caliber. It provides three plans, a monthly, yearly, and two-year plan. Moreover, you get a full refund when you cancel your annual subscription within the first 30 days.
No Log Policy
Some VPN providers keep a log of your internet activity, and there are claims some sell this information to the government. IPVanish claims to have a strict no-log policy. This policy adds to your internet security and anonymity, knowing no one can access what you stream or download.
Wide Reach
IPVanish offers over 2000 servers in 75 locations across the world. The wide reach makes it reliable and versatile because you can connect your FireStick to any of these addresses and access unlimited content.
Unlimited Connections
With IPVanish, there is no limit to the number of devices you can connect to one account. You can connect your Amazon FireStick, Android, iOS, macOS, Windows, and other devices to the VPN.
Additionally, these connections don't have to be in the same location; you can connect to your FireStick from the living room while your partner connects to the same server on their PC from the home office.
Remote Data Wiping
If you lost your FireStick through a house burglary or other reason, the data stored in the device might get into the wrong hands. Luckily, you can delete the data remotely using a VPN feature known as a remote connection wipe. IPVanish supports remote data wiping.
Reliable Customer Support Team
IPVanish customer support team is available and ready to help 24/7. You can instantly reach them via chat or email and receive help whenever you get stuck or have VPN connection issues.
Compatible with Real Debrid
You need Real-Debrid services to stream high-quality links on your Fire TV Stick. For this reason, choosing a VPN compatible with Real Debrid for seamless streaming is essential. IPVanish seamlessly integrates with Real Debrid to give you hassle-free and high-quality links.
Wrapping Up
This tutorial has covered how to install IPVanish on FireStick. Have you installed the IPVanish app on your FireStick? Let us know your thoughts on the VPN service in the comments below.
Related: